News
Discovering the Charm of Round Top
Round Top Texas is a picturesque tiny town located in the heart of Texas Hill Country. It's a place that exudes a timeless charm and feels like a sanctuary far away from the hustle and bustle of the city. This idyllic hamlet is famous for its antiques, history, and unique architecture. Round Top attracts visitors from all over the world who come here to experience its quaint small town charm, friendly locals, and natural beauty. In this blog post, we'll explore the experience Round Top has to offer and why it's worth visiting.
Round Top's Quaint Small Town Charms
When you visit Round Top Texas, you'll be immediately struck by its historic architecture and small-town charm. The town is full of unique shops, galleries, and restaurants that add to this charm. In Round Top, you'll find a thriving arts and crafts community that showcases local talent and creativity. The town also boasts an impressive array of charming bed and breakfasts and boutique hotels that cater to tourists and weekend travelers.
Round Top's Antique Scene
Round Top Texas is famous for its original Round Top antiques and shops. The community's antique dealers offer an array of high-quality antiques ranging from furniture, pottery, glassware, european antiques and more. Twice a year, antique collectors and dealers from all over the world like designer sheila youngblood flock to Round Top for its antique shows, which are a feast for the senses. There's something for everyone, from vintage clothing to collectible firearms, and you're sure to find something that piques your interest.
Round Top's Natural Beauty
Round Top is nestled in the rolling hills of Texas Hill Country, surrounded by wildflower fields and green pastures, barely a square mile in size, the town offers visitors numerous hiking trails, parks, a herb garden, and nature reserves, allowing them to experience the natural beauty of the area. The Round Top Arboretum is especially worth a visit, with its botanical gardens and picnic areas.
Round Top's Cultural Events
Round Top is home to several annual events that attract visitors from all over the United States. The most well-known of these events is the Round Top Antiques Fair, which is held twice a year and features over 350 dealers from around the world. Round Top also hosts an annual music festival called Round Top Festival Institute that attracts music lovers from all over the world. The institute brings together world-class musicians and students for a summer of study and performances. Hotel Lulu is a great option if you want a classic small town hotel feel.
Round Top's History and Architecture
Round Top is a town full of history and unique architecture. The town has a fascinating history that dates back to the 1820s, when the first settlers arrived in the area. Many of the historic buildings in Round Top have been beautifully preserved, with a formal garden including the 1871 Round Top State Bank building, the 1883 William and Mary Reuter House, and the 1886 St. Martin's Lutheran Church. Visitors to Round Top can take a walking tour on walking trails and enjoy the town and earn more about its history and architecture.
The Fascinating History of Round Top
Round Top may be a small town in Texas, but it has a big story. Nestled in the rolling hills of Fayette County, Round Top has a rich and fascinating history that spans more than a century. From tornadoes to German immigration, and from the founding of a rural college to the world-famous Round Top Antiques Fair, this charming town has experienced a variety of events that have shaped its past. So sit back, grab a cup of coffee, and let us take you on a journey through the history of Round Top.
The Founding of the Town
Round Top was founded in the early 19th century, around the time of Texas' war for independence from Mexico. The town's name is thought to have originated from the shape of the surrounding hills, which are said to resemble the dome of a round-top trunk. In 1870, the town was incorporated, and its first mayor was the owner of a local dry goods store.
German Immigration
Like many areas in Central Texas, Round Top saw an influx of German immigrants in the mid-19th century. These settlers brought with them their traditions, language, and culture, which can still be seen in the town today. Some of the notable German-Americans who made Round Top their home include the Kessler brothers, who founded the Round Top Schützen Verein (shooting club) in 1874.
Disaster Strikes
Round Top has experienced its fair share of natural disasters over the years, including a devastating tornado in 1900. The twister destroyed many buildings and killed several residents. Another severe weather event occurred in 2000 when a massive hailstorm hit the town, causing damage to vehicles, houses, and crops.
Education in Round Top
Round Top has a long history of providing education to its residents. In 1871, the Round Top Texas Male and Female Institute was founded, which later became the Round Top College. The college was a four-year institution that provided courses in the sciences, languages, and humanities. Today, the Round Top-Carmine Independent School District serves the area.
The Round Top Antiques Fair
No discussion of Round Top's history would be complete without mentioning the town's most famous event: the Round Top Antiques Fair. Started in 1968 by a local couple, the fair has grown to become one of the largest antiques shows in the country. People like Blue Hills and Courtney Barton the Houston Designer, come from all over the world to attend the twice-yearly event, which features over 350 vendors offering antiques, vintage items, and collectibles.
As you can see, Round Top is much more than just a sleepy Texas town. Its history is full of interesting and unique events that have shaped the town into what it is today. Whether you're fascinated by German immigration, natural disasters, or antiques, Round Top Texas has something for everyone. We hope you've enjoyed learning about the history of Round Top as much as we've enjoyed sharing it with you.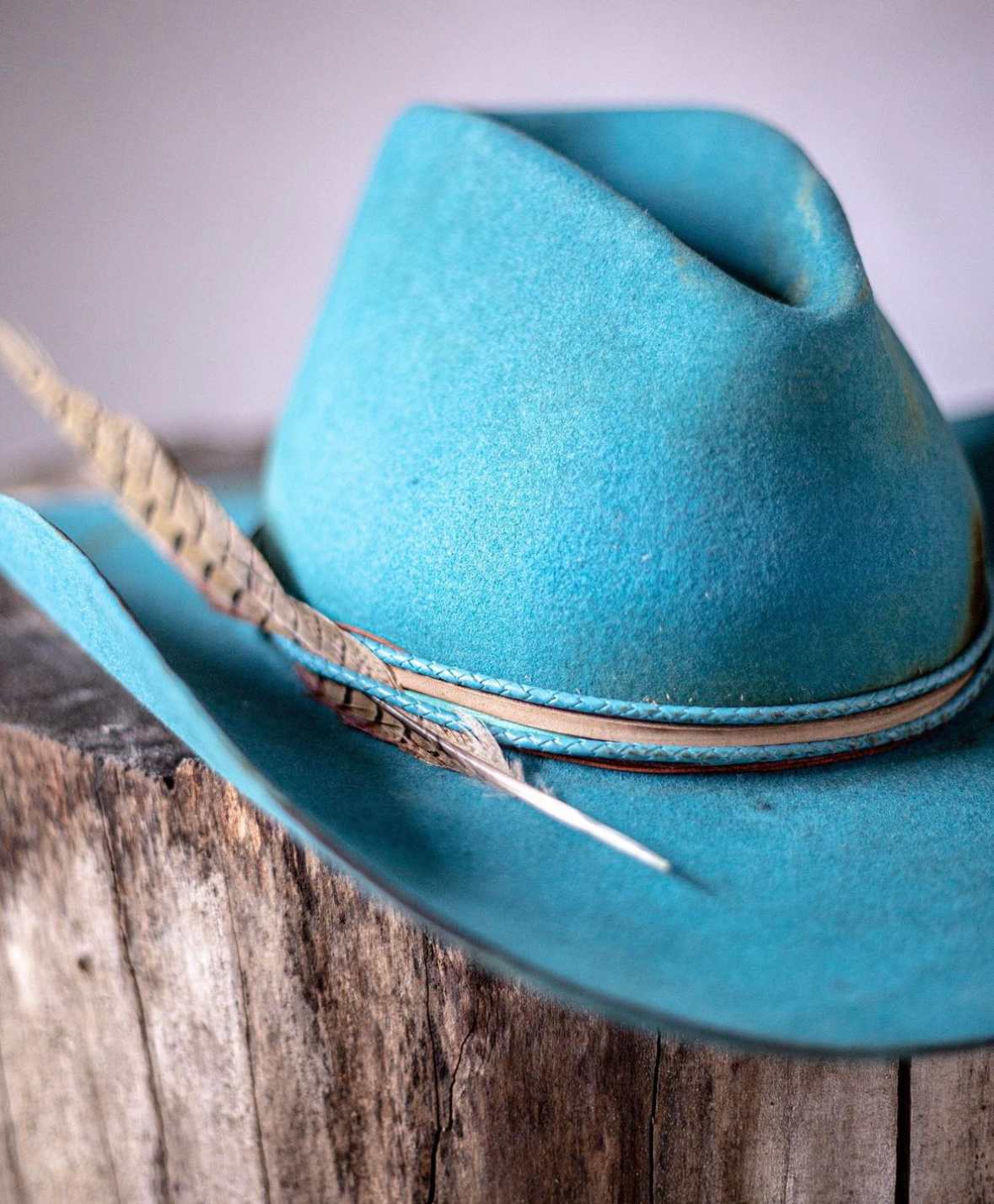 The Best Hats to Wear in Round Top
Round Top, Texas, is one of those charming towns that effortlessly transports you back in time. With its charming antique stores, small boutiques, and rustic aesthetic, it's no wonder the town has become a destination for lovers of all things vintage. But Round Top, known as the next Jackson Hole, also happens to be famous for its biannual antique festivals that draw in people from all over the world.
And if you're one of the many who've planned to visit Round Top during these festivals, you're going to need something to protect your face and eyes from the hot Texas sun. Thankfully, Round Top isn't called "hat capital of Texas" for nothing. Below we'll share with you the best hats to wear in Round Top for a stylish and comfortable visit.
The Cowboy Hat
When in Texas, do as the Texans do and don the classic cowboy hat with cowboy boots. Not only does it add a Western flair to your look, but it provides excellent coverage against the blazing sun. The best material for a cowboy hat in Round Top is undoubtedly felt, which is durable and provides better shade than straw.
The Sun Hat
The sun hat is a classic choice for any outdoor activity, and Round Top is no exception. When choosing a sun hat for your visit to Round Top, look for one with a wide brim and a breathable fabric like cotton. This will keep you cool and give ample coverage from the sun's harmful rays.
The Panama Hat
The Panama hat is a timeless classic that never goes out of style. It's perfect for a day in Round Top because of its lightweight and breathable material. The classic design of the Panama hat will make you look effortlessly stylish while keeping your face shaded from the sun.
The Visor
If you're looking for a hat that is lightweight, easy to pack, and doesn't take up too much space, a visor might be the perfect option for you. It provides shade to your face, ears, and neck while still allowing air to flow through. Visors are also great for those who prefer to keep their hair out of their face.
The Baseball Cap
Not just for sports events, the humble baseball cap is a great option for Round Top visitors who want to keep it casual. Look for a cap made of breathable materials like cotton or linen. Baseball caps are perfect for those days when you're running errands or exploring the town's many antique shops.
No matter what type of hat you choose, make sure it's comfortable and makes you feel confident. The hats we've listed above are just a few of many options available to you when exploring the charming town of Round Top. So embrace the hat culture of Texas and let your hat become a stylish accessory for your trip. Now that you know the best hats to wear in Round Top, you're all set to enjoy the sunshine in style. Happy hat hunting!
Conclusion:
Round Top Texas is a hidden gem that's worth discovering for its history, small-town charm, natural beauty, and cultural events. A visit to Round Top is a chance to unwind and experience a big time small town and the best of what Texas Hill Country has to offer. Whether you're an antique collector, history buff, or just someone looking for a peaceful escape, Round Top has something for everyone. So, plan a visit to Round Top, and discover the magic of this remarkable small town.

Topped Hats
Topped Hats has you covered for your next trip to Round Top, or your next trip anywhere! Our classic but stylish hats can be worn anywhere.