News
What Are Cowboy Boots and Why Are They Iconic?
Cowboy boots are not just rugged footwear; they represent a lifestyle and a certain attitude. They have become one of the most iconic, recognizable and much-loved items of clothing in the world. Cowboy boots are often featured in pop culture, movies, music videos and are embraced by cowboys, fashionistas, and everyone in between. But what are cowboy boots? In this blog post, we'll explore the origins of cowboy boots and why they remain such a beloved fashion statement.
Cowboy boots were originally popularized as a practical footwear option for working cowboys who spent long hours in the saddle and needed sturdy, durable boots to protect their feet. They are typically made of leather and have a pointed toe and a high heel. The pointed toe allows the cowboy to quickly and easily slide their foot into the stirrup while horseback riding. The high heel is designed to fit snugly into the stirrup, preventing the foot from slipping out.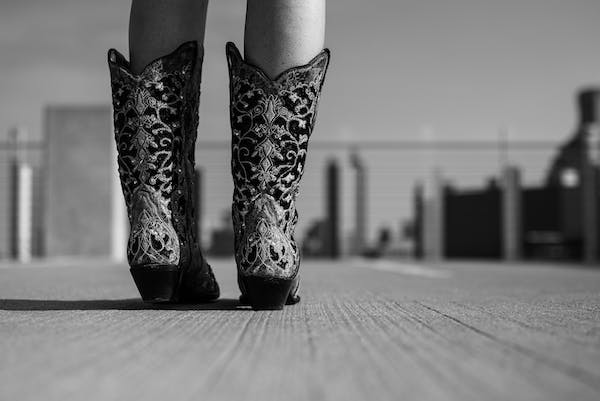 Over time, cowboy boots became a fashion statement and evolved into different styles, shapes, colors, and patterns. In the 1920s, cowboy boots were featured in Hollywood western movies, which increased their popularity across America. Since then, cowboy boots have become a quintessential part of women and men's western fashion, with a distinct symbolism attached to them. They convey a sense of ruggedness, independence, individuality, and the spirit of the American West.
One of the most iconic cowboy boot designs features intricate stitching, which is often referred to as "western stitching." This stitching, also known as embroidery, is done by hand and is inspired by global parts of the world, like traditional Native American and Mexican designs. It can be seen on the toe, heel, and upper part of the boot. Many people collect cowboy boots with different patterns and colours, and it's not uncommon for people to own multiple pairs to wear with different outfits or on different occasions.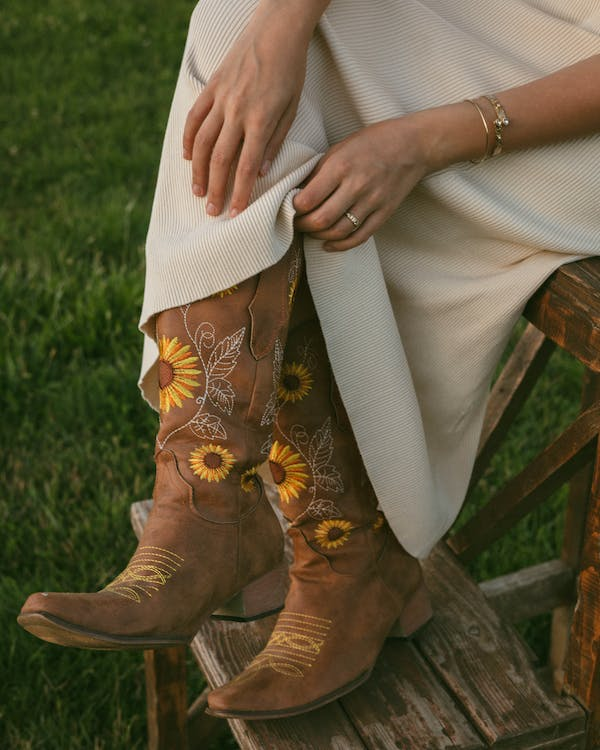 Cowboy boots are not only for cowboys or those who live in the American West. They have been embraced by people all over the world who appreciate their unique style. They can be styled in a variety of ways, such as pairing them with a dress for a boho look or with jeans for a more classic Western outfit. Moreover, they are versatile and durable, making them a great investment for anyone interested in adding a touch of Americana to their wardrobe.
The Different Types of Cowboy Boots You Need to Know
Cowboy boots have been a fashion staple not just in the Wild West but everywhere. They have been a favorite of both men and women not only for their style but also for their functionality.
Today, there are many different types of cowboy boots available in the market. Each type has its own unique features, toe shapes, making it perfect for different occasions.
Classic Cowboy Boot
This type of western boot is the most recognizable and popular. It features a pointed toe, stacked heel, and decorative stitching on the shaft of the boot.
They're made of leather and are best suited for outdoor activities. Their comfort and support make them stand out from the others. Classic Western Cowboy boots are great for riding a horse, working on a ranch, or dancing at a country concert.
Roper Cowboy Boot
Roper boots, also known as work boots, are designed for comfortable wear while performing various tasks such as ranch work and other manual labor. They are also distinguished by the shorter shaft and square toe.
The heel is shorter than that of the classic western cowboy boots, which makes them more comfortable for long periods of walking.
Buckaroo Cowboy Boot
This type of cowboy boots are a nod to the Mexican-style riding boots with a leather flap that stretches the length of the boot. They have a high shaft that reaches the mid-calf with decorative embroidery and a slightly rounded toe.
Buckaroo cowboy boots are perfect for those looking to make a statement, effortlessly giving off the cowboy vibe due to its authentic design. These exotic boots are a great example of men's cowboy boots, usually made from cowhide leather.
Western Dress Boot
This type is the most versatile of all types of cowboy boots, with it's ease of classic western styling. They come in different colors, styles, and designs, and can be worn with formal attire such as suits and blazers. They have a slightly pointed toe shape and a higher shaft than Roper cowboy boots. Western dress boots are great for weddings, office parties, and other formal occasions. Don't forget your boot socks!
Stockman Cowboy Boot
A very utilitarian type of cowboy boot, a stockman boot is suitable for those who prefer a simple design. They have a square-toe and a shorter heel than the classic western cowboy boots. Stockman cowboy boots have a functional design and are great for an everyday work boot or casual wear.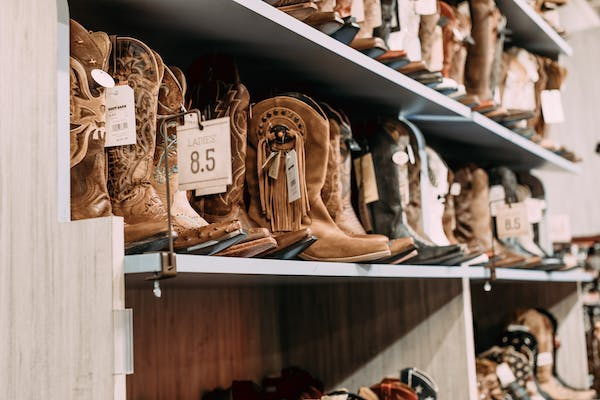 How to Find the Perfect Pair of Cowboy Boots
Cowboy boots are an iconic part of American fashion and have been for centuries. Originally designed for cowboys, these boots have become fashionable footwear for both men and women over the years.
They are rugged, distinct, and versatile - and can be worn with jeans, skirts, shorts, and dresses. However, finding the perfect boot can be a daunting task, especially when you're looking for a quality pair of western boots, with so many styles and colors available on the market.
Quality of Materials
One of the first things to consider when choosing cowboy boots is the quality of materials. Look for genuine leather boots that are well made and have high-quality stitching. Rich leather or suede are a durable material that will last for years to come and will only get better with age.
Be wary of cheaper, synthetic materials as they may not stand up to wear and tear as well, especially non leather. You definitely want the finest materials. When it comes to choosing the type of leather, you have options like cowhide, alligator, lizard, snake, and ostrich. It depends on your budget and style preference, but keep in mind that different types of leather carry various durability and flexibility levels.
Comfort
The comfort of cowboy boots is essential if you plan to wear them for extended periods or for work purposes. The right pair should be comfortable and well-fitted from the get-go. Good cowboy boots should provide an appropriate level of support, especially around the toe box, arch, and heel.
It's always best to try on multiple sizes and styles to find the perfect fit. The best pair should feel snug but not tight - you need to have some moving space in the front and back. You can also look for cushioned insoles, leather linings, and shock-absorbing soles to enhance the feeling of wearing them.
Style and Design
Cowboy boots come in different styles, designs, and colors, making it one of the most versatile footwear options in the market. It's a good idea to choose a pair that fits your individual style and personality. For example, you can opt for a classic pair with a round toe or a square toe style if you prefer. Heel height is another one to consider - from low, angled heels to high, riding heels, you can choose a style that works with your wardrobe, height, and overall look.
Consider boot height, shaft height, upper color, and material. Lastly, the design and color of your boots can be as bold and unique as you want. A lot of boots come in the vamp color scheme. You can choose interesting cutouts, bold stitching, metallic accents, and even customized patterns. Your boots should match with your personality, style, and overall fashion sense. You'll find the stylish pair that fits your aesthetic.
Price Range
Lastly, the price range for cowboy boots can range anywhere from under $50 up to several thousand dollars. Quality-made boot brands that have been in the industry for decades are more likely to produce durable and lasting boots. Still, keep in mind that expensive doesn't always equate to better quality, so consider each pair's value for your price range.
Remember, you want quality boots that will last you for years to come and provide you with comfort, durability, style, and functionality. Set your budget limit and choose boots that offer you the best value within your budget.
Why You Have to Pair Your Western Boots with a Custom Hat
When it comes to western fashion, western boots and hats are two of the most iconic pieces. While cowboy boots are a staple in any western wear outfit, many people often overlook the power of a custom hat.
However, pairing your cowboy boots with a custom hat can make all the difference in your look. We're going to explore why you have to pair your cowboy boots with a custom hat.
A Custom Hat Adds Personality
A custom hat is a reflection of your personality and style. Unlike cowboy boots, hats give you the opportunity to really show off your individuality and set yourself apart from the crowd.
When you pair your cowboy boots with a custom hat, you're showing that you put thought and care into your outfit and that it's a true representation of who you are.
A Custom Hat Finishes the Look
No outfit is complete without the right accessories, and a custom hat can really pull your entire western wear outfit together. Whether you're wearing a simple outfit or something with a lot of layers, a hat can give it the finishing touch that it needs.
A custom hat can also help balance out the proportions in your outfit, creating a cohesive look that's both stylish and functional.
A Custom Hat Provides Sun Protection
When you're out and about in the sun, it's important to protect your skin from harmful UV rays. While cowboy boots are great for protecting your feet and legs, they don't do much for your face and head. That's where a custom hat comes in. A hat with a wide brim can provide shade and protect your face and neck from the sun, keeping you cool and comfortable all day long.
A Custom Hat is Versatile
One of the great things about a custom hat is that it's versatile and can be styled in many different ways. It can be dressed up or down, worn with a variety of western wear outfits, and customized to your liking.
With so many options, you'll never get bored of wearing your custom hat, and it will become a staple in your wardrobe for years to come.
A Custom Hat Completes the Cowboy Look
Finally, it's hard to look like a true cowboy or cowgirl without a hat. Cowboy boots are great, but they don't quite create the same iconic look as when paired with a hat.
When you wear a cowboy hat, you're instantly recognizable as part of the western culture and lifestyle. It's a way to pay homage to the rich history and traditions of the cowboy lifestyle, and it just makes everything feel a little bit more authentic.
Why not complete the cowboy look with one of Topped Hats Custom Hats and a pair of nice cowboy boots from one of our favorites: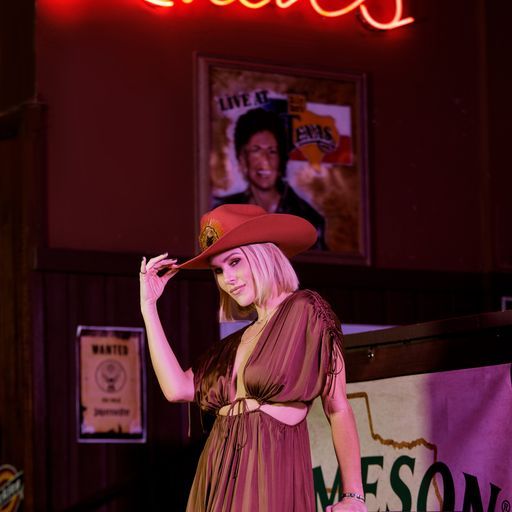 Conclusion
In conclusion, cowboy boots symbolize much more than just footwear. They represent a lifestyle and a certain attitude, evoking the spirit of independence and the legacy of the American West. Over time, cowboy boots have evolved into a beloved fashion statement, with distinctive features such as pointed toes, high heels, and intricate western stitching.
Whether you're a cowboy, fashionista, or just someone who appreciates classic style and durability, cowboy boots are an excellent addition to your footwear collection.

Topped Hats
Picture this: you're standing in a western boots shop, trying on new pairs of shoes. You feel confident in your new purchase, but something is missing.
That's where Topped Hats comes in. Our custom hats are the perfect addition to complete your western look. Not only will our hats match your boots seamlessly, but they're also created with a comfortable fit in mind. Don't settle for any old hat when you can have a unique and stylish one from Topped Hats.